Quittners Stark View Lodge is centrally located between Burlington, Lake
Champlain and Middlebury. All places are an easy scenic drive and under
an hour. Guests coming by air will find the airport a pleasurable 25 mile
drive. Within minutes skiers can be at Mad River Glen and Sugarbush Ski
Areas. Many guests find our closeness to Canada can be an enjoyable day
trip.

There are numerous restaurants nearby to fit a variety of budgets and
appetites. They offer family menus to fine dining. We are lucky to have
numerous shops, museums, attractions and most of all an abundance of
outdoor activities. Through the Heart of Vermont Lodging Association,
we offer our guest a variety of discounts to area sites and restaurants.
During the winter skiers receive substantial discounts at the nearby ski
areas and Stowe. Quittners is located on a noted bike route which is
popular for its variety of terrain. The rivers and lakes provide natural
opportunities for swimming, kayaking/canoeing, boating and fishing. The
numerous swimming holes make for a great outing by auto or bike.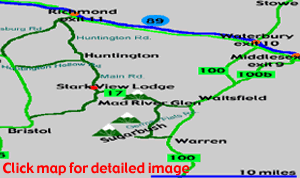 When you leave our parking
lot you are on Route 17
and in minutes will be at
Mad River Glen Ski Area.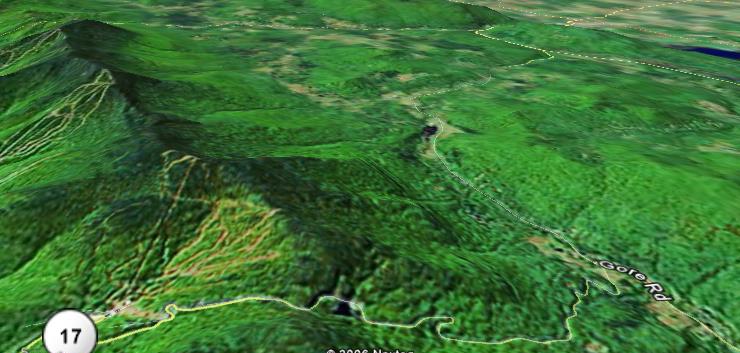 DIRECTIONS FROM NEW YORK --NEW JERSEY
1. Travel New York Thruway I-87 north to exit 24 Albany
2. After exit 24 continue on Northway I-87
3. Exit Northway at the Fort Ann exit #20 to Rt. 9
4. Follow Rt. 9 north (approx. 1 mile) for right turn to Rt.149 east to Fort Ann
5. At the light in Fort Ann make left turn on to Rt. 4 East
6. Follow Rt. 4 to exit #2 for 22a north towards Vergennes
7. Travel approximately 34 miles north to Addison where you take right at 4 corners on to Rt17 (8 miles to Rt. 7)
8. Turn right on to Rt.7 and then make next left turn on to Rt.17 to New Haven then to Bristol (Number 8 is so short it will not show up on your map so just follow the written directions)
9. 3 miles out of Bristol turn right to Rt.17
(Quittners is located in SOUTH STARKSBORO.)
10. Approx. 7.5 miles look for sign to Huntington on the right side of road. Make a left turn after the sign which is the Gore Rd.
11. The second place on the left is Quittners (two buildings--one brown and theother yellow-- ¼ mile from turn)
DIRECTIONS FROM BOSTON AREA- VIA Richmond Exit 11
1.Travel I-93 North to I-89 ( near Concord, NH)
2. Follow I-89 north toward Montpelier, VT
3. After the Waterbury exit take exit 11 Richmond
4. After you leave I-89, you will make a left turn on to Rt. 2 east
5. Follow Rt. 2 for about 1 mile take the first right turn
at the light which will be Bridge Rd. follow it to
Huntington Village & Huntington Center for 15 miles
6. Look for a yellow building and a brown building on the right side if you pass them you will be at Rt. 17
7. Turn around and Quittners is the 2nd place on the left 1/4 mile from Rt. 17
ROUTE 7 FROM WESTERN CT
1. Pick up Rt. 7 north following it to Middlebury, VT
2. Continue to travel north on Rt. 7 to New Haven Jct. and turn right onto Rt. 17
3. Follow Rt. 17 to Bristol
4. 3 miles out of Bristol look for right turn to Rt. 17 Follow Rt. 17 for 7.5 miles
5. Look for sign to Huntington on the right side of road and take the next left which is theGore Rd. 6. The second place on the left is Quittners two buildings not more than ¼ from Rt. 17.
(Quittners is located in South Starksboro.)
DIRECTIONS FROM BOSTON AREA VIA Mad River Glen Ski Area
1. Travel I-93 North to I-89 (I-89 Entrance near Concord, NH)
2. Follow I-89 north toward Montpelier, VT
3. After the Montpelier exit take exit #9 Middlesex
4. After you leave I-89, you will make two left turns on to Rt. 2 south
5. Follow Rt. 2 for about ½ mile to first right turn which will be 100B South --follow it to Waitsfield
6. As you leave Waitsfield, look for Rt. 17 which will be on the right.
7. Follow Rt.17 to Mad River Glen Ski Area -- continue on Rt. 17 over the mountain approx. 4 miles and take the first right turn which will be the Gore Rd.
8. Quittners is the second place on the left from Rt. 17 intersection (two buildings -approx. ¼ mile from Rt.17)
(Quittners is located in South Starksboro.)
FROM MAD RIVER GLEN SKI AREA
1. Follow Rt. 17 to Mad River Glen Ski Area -- continue on Rt. 17 over the mountain approx. 4 miles and take the first right turn which will be the Gore Rd.
2. Quittners is the second place on the left from the intersection. (two buildings close to road- approx. ¼ mile from Rt. 17)
. (Quittners is located in South Starksboro.)
BURLINGTON INTERNATIONAL AIRPORT
1.Make a left turn onto Airport Parkway follow road to Rt.2 or also called Williston Rd.
2. At the light make a left turn and follow RT. 2 to Richmond
3. At the light in Richmond take a right turn onto Main Rd.
4. Follow it to Huntington Village & Huntington Center for 16 miles
5. Look for a yellow building and a brown building on the right side if you pass them you will be at Rt. 17
6. Turn around and Quittners is the 2nd place on the left 1/4 mile from Rt. 17
(Quittners is located in South Starksboro.)

1-877-237-3171
802-453-2045